​Bacon Jalapeño Sourdough Garlic Bread Recipe
Today we wanted to share a quick and easy recipe provided by a close and personal Zatoba follower! Not only is this a delicious zest of all the right spices, savory meat, and delicious home-made sourdough, but an excellent summer side for those outdoor patio and BBQ dinners. With Fall approaching and the temperatures cooling off this is just the right dish to keep things warmed up.
Follow these simple steps and you will be on your way to the next best slice!
Ingredients:
Sourdough Bread
We recommend the Northwest Sourdough Starters
Whipped Butter
Bacon Drippings
1/2 pound cooked and crumbled Bacon
3 Jalapeños
1/4 Grated Parmesan Cheese
1/4 Cup of Garlic Powder
Instructions:
Slice a loaf of sourdough bread and spread every other cut with a mixture of 3/4 cup of whipped butter, mixed with 2 tablespoons of cooled bacon drippings
Add in a half pound cooked and crumbled bacon.
Next add 3 chopped roasted jalapeños, with 1/4 cup grated parm. cheese, and 1/4 tsp garlic powder
Wrap your loaf in foil and warm at 350 for 20-30 minutes
When finished you can place in a beautiful bread basket and cover with the proofing cloth from zatoba,
You may even want to keep your zatoba bread lame handy to slice these cuts of bread as you go!!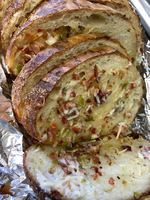 Recomended Products for this recipe:
- Dough Whisk for bacon grease whipping and butter
http://zatoba.com/dough-whisk-black-walnut/
- Bread Lame for Bread slicing
http://zatoba.com/black-walnut-bread-lame/
- Proofing cloth for bread baking and decorative heating control
http://zatoba.com/european-100-flax-couche-heavy-p...
There you have it! Enjoy and be sure to share how yours comes out.